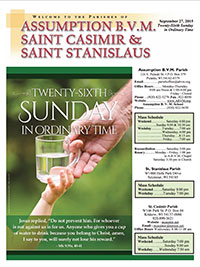 Download This
Week's Bulletin
Download the myParish App
News and Announcements
It was a beautiful late summer evening for the 2019 Catechist Reflection.
Deacon Todd Raether, of St. Martin's Parish in Cecil, led the reflection
on the grounds of the Franciscan Friary, by the pond. What a peaceful
setting for a very fine gathering.
Click on the photo or the link below the photo to see the album.

photos courtesy of Pam Janssen
---
---
SHOW YOUR MONEY WHO'S BOSS!

Take control of your money with Financial Peace University (FPU)! This 9-week course uses biblical wisdom along with common sense to help you budget, pay off debt, and show your money who's boss! The course includes a member workbook and a year of free online resources through Financial Peace University. A $50 deposit at time of registration is required to save your spot. The Holy Name Society will pick up the remaining costs. Space is limited to 10 memberships.
Course will run on nine consecutive Wednesday evenings, September 4th through October 30th. Sessions (parish location TBD) will begin at 6:00 p.m. and will run for 1 ½ - 2 hours.

If you are interested or would like more information, please contact Chad Majewski at 715-851-7201.

---
Click on the link below to download the new RE/Faith Formation Registration