Sign Up For Word On Fire ENGAGE!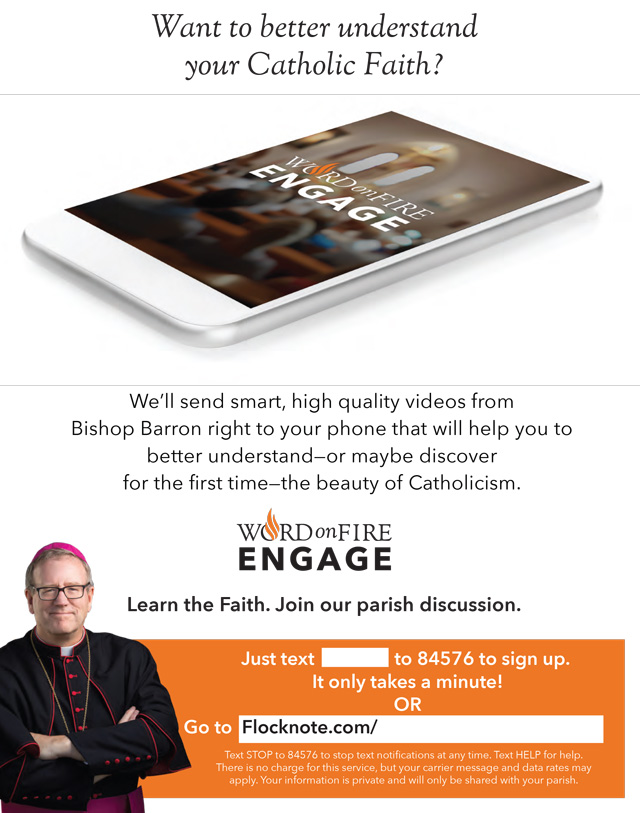 We continue to utilize every other bench to keep social distancing requirements.
If you are concerned or sick in any way PLEASE DO NOT ATTEND
If you are caring for someone with a health condition PLEASE STAY HOME
WE ARE DOING EVERYTHING WE CAN TO KEEP YOU SAFE!
Our Weekend Mass Schedule is

:
4:00 pm on Saturday at Assumption B.V.M. – Pulaski
7:00 pm on Saturday at St. Stanislaus – Hofa Park
8:00 am on Sunday at Assumption B.V.M. – Pulaski
9:00 am on Sunday at St. Casimir – Krakow
10:30 am on Sunday at Assumption B.V.M. – Pulaski
We will continue to record and post the 4:00 pm Mass on our parish You Tube Channel (abvm cast)
Confessions will be at 3:00 pm on Saturdays at ABVM and by appointment.
We have resumed Eucharistic Adoration and Holy Hour in the ABVM Chapel immediately after the Friday morning 7:00 am Mass.
Thank you for your patience, your prayers and your generosity during this time. We have such an amazing parish thanks to you!
Yours in Christ,
Fr. Jim Gannon, O.F.M.
Blessing of Throats Weekend
January 29th & 30th.
Sunday Mass Broadcast
The typical Sunday Mass broadcast will air on Sundays,  at 7:30 AM, on WFRV. 
For those unable to attend Mass in-person right now, please be advised there is a NEW TIME for the Mass – Every Sunday at 7:30 AM. All are invited to tune in every Sunday morning to WFRV-Channel 5 and pray with us from wherever you are!
Mass Schedule
Saturday's
4:00 pm at Assumption B.V.M. – Pulaski
7:00 pm at St. Stanislaus – Hofa Park
Sunday's
8:00 am and 10:30 am at Assumption B.V.M. Pulaski
9:00 am at St. Casimir – Krakow
Weekday's
Tuesday – 7:00 am at ABVM – Chapel
St. Stanislaus suspended until March 8, 2022
St. Casimir suspended until March 9, 2022
Wednesday – 6:00 pm at ABVM – Chapel
Thursday – 8:15 am at ABVM with ABVM School Children
Friday – 7:00 am at ABVM – Chapel
7:30 – 8:30 am Eucharistic Adoration And Holy Hour at ABVM Chapel
Personal and Family Well-Being: Adjusting to working differently and taking care of ourselves
Praying Through Anxiety & Unresolved Issues | A  six-step process for personal and prayer ministry
Parenting Resources | Discipleship is rooted in the home. Take this opportunity to incorporate some of these simple yet powerful practices into your family to grow in faith.
Family Resources List | Need help or support for your family? Check out our entire resource page for families that includes resources for studying/learning at home, making the most of virtual Mass, tips for physical and emotional well-being, and more!
Financial Guidance during Tumultuous Times | This powerpoint comes courtesy of the Financial Health Department of Catholic Charities . Please use for your personal reference, or share with others. Visit their website for assistance, too.
Finding God and Coping In Times of Uncertainity  |  Coping strategies to support your mental well-being. Catholic Charities  of the Diocese of Green Bay serves the needs of those in our diocese regardless of religious affiliation.  Visit newcatholiccharities.org for assistance.
Mental Health Resource – Ascension WI EAP | The following resources are aimed to support and nurture your mental wellness.
Tips for Working Remotely | Check out these tips for setting up a home or virtual workspace, ergonomics basics, prioritizing your mental health, managing the flow of information, and more.
2021-2022 Religious Education Online Registration is now open starting April 15, 2021
Safe Environment
Each person has an inherent dignity as a beloved child of God. The Diocese of Green Bay is committed to providing a safe environment in our parishes, in our schools, in our Faith Formation programs, and in all of our ministries, especially those that serve children, youth and individuals at risk. If you want to learn more about the programs and resources available through the Diocese of Green Bay to live out this commitment.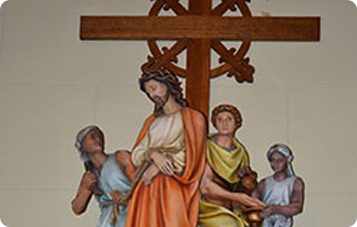 Assumption BVM
124 E Pulaski St Pulaski, WI 54162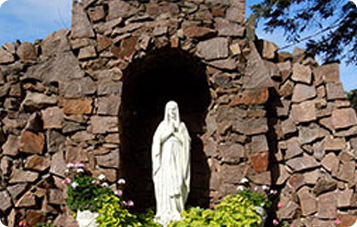 St. Casimir
W146 Park St Krakow, WI 54137
St. Stanislaus
W1888 Hofa Park Dr Seymour, WI 54165
Monday – Thursday
8:00 am – 4:00 pm
Friday
9:00 am – noon